Here's How You Can Make an Impact in Our Community
Our community is home to dozens of nonprofit organizations, all working for the good of those who live and work here. 2020 was especially hard on families and businesses in our area, and our nonprofits need our support more than ever to serve the needs of our community. Ready to lend a hand?
In lieu of gathering donations for local nonprofits in person this year, we're taking this Community Impact Campaign online, and asking you to simply click and show your support.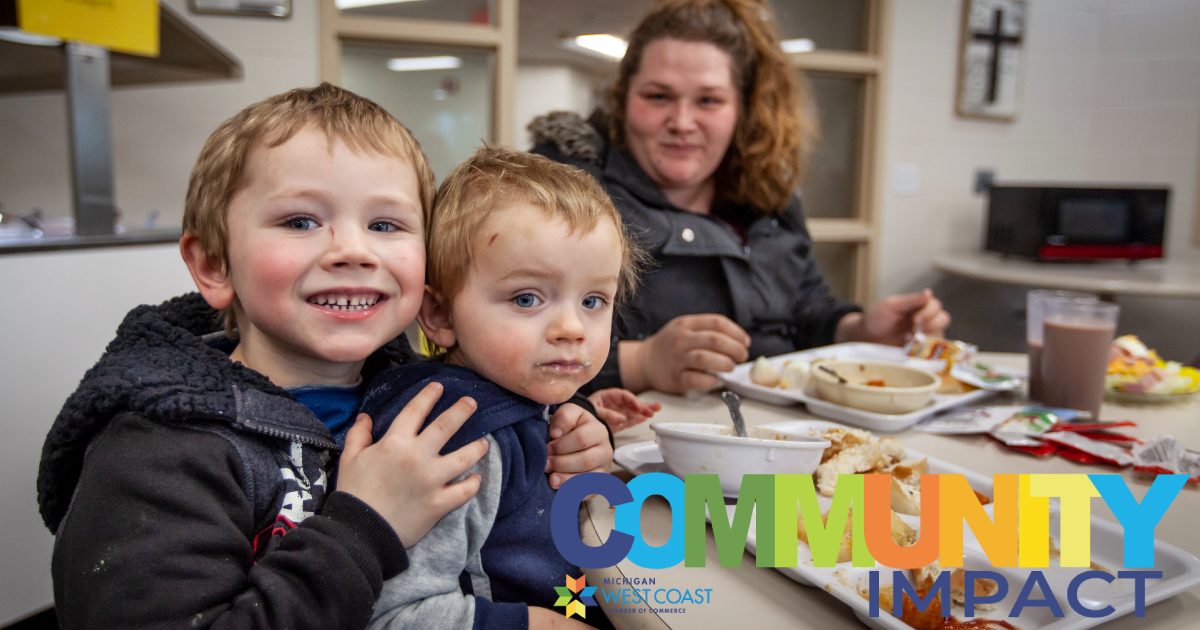 Community Impact Opportunities
Champion a Nonprofit in Our Community by Clicking on a Wish List Below
We've listed our participating nonprofit organizations alphabetically, and given a brief overview of their missions, and links to their websites and wish lists.
Our mission is to restore the lives of those affected by incarceration. We come alongside each person, showing the love of Christ and providing the instruction, guidance, resources, and opportunities for a new, godly life.
The Alzheimer's Association Michigan Chapter is the premier source of information and support for Michigan residents living with dementia and their families and caregivers.
Arbor Circle is proud to be one of West Michigan's most comprehensive providers of mental health counseling, substance use treatment and family development programs.
Through the Benjamin's Hope Live, Learn, Play, Worship farmstead community, we pour our hearts into ensuring those with intellectual and developmental differences connect to their greater community and thrive.
Boys and Girls Club of Greater Holland
For thirty years, the Boys & Girls Club of Holland has proudly served our community's children and teens. Our program is all about teamwork, education, creativity, healthy habits, and community.
Our aim is to have middle and high school students become engaged and invested members of our community by building deep, inter-generational relationships and focusing on academic, social, mental health, and career-oriented development.
City on a Hill seeks to demonstrate God's love to our local community and the world through resident ministries, event spaces and our own community resource ministries: Doors of Hope, the Health Clinic, the Café, and Leader Renewal.
Provide area families and individuals with food, clothing, shelter, and opportunities to build necessary skills to achieve a stable and prosperous life.
Compassionate Heart Ministries
Compassionate Heart Ministries is a fun, Christ-centered, and safe place for people ages 14 to 35 with mild to moderate disabilities to come, hang out, and make friends!
CranHill is Michigan's choice campground, Christian summer camp, and retreat center focused on building relationships, strengthening families, and transforming lives into the image of Christ.
Ed & Nancy Hanenburg Children's Advocacy Center
Helping families with abuse prevention and intervention. Giving children the opportunity to be heard and believed in order to foster trust, healing, and hope.
Relationships, Opportunities, and Resources that matter for youth and their families who often fall through the cracks of society.
First Tee is an international youth development organization. Through after school and in school programs, we help shape the lives of young people from all walks of life by reinforcing values like integrity, respect and perseverance through the game of golf.
Our mission is to end poverty and homelessness. We do this by mobilizing faith-based and community partners, activating individual and community assets, and meeting immediate needs in our community.
Greater Ottawa County United Way
Greater Ottawa County United Way's mission is to improve lives by mobilizing the caring power of community to advance the common good.
Harvest Stand Ministries exists to lift people out of poverty by responding to human need with the love of Christ
Holland Community Health Center
Holland Community Health Center offers high-quality, culturally sensitive, health care for men, women and children, regardless of insurance status.
Our purpose is to ensure access to health services for the underserved, providing free care with a holistic approach that addresses needs of the mind, body, and spirit.
To be a cultural leader and community collaborator inspiring the next generation of leaders, thinkers, and innovators.
Our vision and mission is to help every man, woman, and child that walks through our doors overcome homelessness for good. We offer Biblically based programs and services to provide healing for transforming lives.
Hope Network is an advocate for people who suffer from physical, mental, and social barriers that impact their daily life. With experts across Michigan, Hope Network helps them overcome, so they can live their best life possible.
Strengthening neighborhoods in the greater Holland area through the development of attainable housing options, the stewardship of vital community assets, and collaboration with key community partners.
For over 25 years, Kids Hope USA has provided a proven, life-changing program through church-school partnerships that train and equip mentors to reach kids in public schools who are in-need of caring, reliable, one-on-one relationships.
We nourish children living at or near the poverty level with critical evening meals to level the playing field for their academic achievement. Equipping children and families with greater access to fresh, locally grown food can help us build a more vibrant, healthier West Michigan.
Lakeshore Habitat for Humanity
Seeking to put God's love into action, Lakeshore Habitat for Humanity brings people together to build homes, communities and hope.
Latin Americans United for Progress (LAUP)
Since 1964, Latin Americans United For Progress (LAUP) has been empowering Latinos to participate in creating a better community for all.
The PACE® (Program of All Inclusive Care for the Elderly) is a nationwide program. LifeCircles PACE provides all health care through our Center or relationships with area specialists. Our primary focus is on preventative measures to maintain the health and well-being of our participants, allowing them to remain in their homes for as long as possible.
At Mediation Services, we provide a safe, neutral environment where trained mediators lead people through discussions to assist them in resolving their differences.
Mosaic Counseling offers hope and healing for all by providing accessible and affordable professional counseling services.
Our mission is to provide a constant source of support and understanding to the LGBTQ community of the greater Holland area. We seek to create a community in which all persons are afforded equal rights and opportunities.
To prepare children up to five years old for success in kindergarten by equipping parents and families through the integrated support of the Holland, Zeeland, and Hamilton communities.
Resilience: Advocates for Ending Violence
The Resilience mission is to respond to, reduce, and prevent domestic and sexual violence in Ottawa and Allegan counties.
Special Olympics Area 12 /Ottawa, Allegan, Muskegon
The mission of Special Olympics Michigan is to provide year-round sports training and athletic competition for children and adults with intellectual disabilities.
Tulip Time welcomes the world into our community by celebrating tulips, Dutch heritage, and Holland today.
Versiti Blood Center of Michigan
We are Blood Health Innovators who enhance lives through discovery, diagnosis, and treatment. We are home to the world-renowned Blood Research Institute, we enable lifesaving gifts from our donors, and provide the science behind the medicine through our diagnostic laboratories.
Community Impact Campaign Sponsors
These sponsors have chosen to invest in our Community Impact Campaign. We are grateful for their leadership in our community as Champions for our local nonprofits and the people they serve.