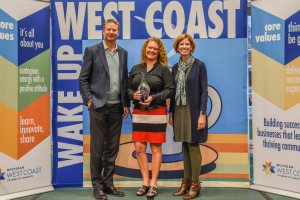 For those in attendance at this week's West Coast Chamber Wake Up West Coast Breakfast, the take away message was clearly that putting people first, and developing innovative ways to serve customers has been a recipe for success for Mandi Brower and Quality Car Wash. The 2018 Small Business Person of the Year recipient was joined by team members and family members, all of whom shared the story of what set this now third generation family-owned business on a trajectory to becoming a leading national brand in its industry.
Only 30% of family business survive to the 2nd generation and only 12% to 3rd. CEO Mandi Brower is the 3rd generation for her family, and is proud to say that their family-owned business is not only surviving, they are Thriving. Mandi shared, "Started by my Grandfather and Great Uncle 50 years ago, Quality Car Washes operates under many of the same principles that they put in place in 1969." Focusing on people, business culture, service, and a never ending pursuit of delivering exceptional experiences is as true for Quality Car, and they are based on the mantra: WE OWN IT!
Here's how it breaks out:
W - WOW Factor
E – Exceptional Guest Experience
O - Outstanding Team Work
W – Winning Attitudes
N – Never Ending Pursuit of Excellence
I – Immediate Call to Action
T – Training. We are continually training our team to be the best they can be and do the best they can do.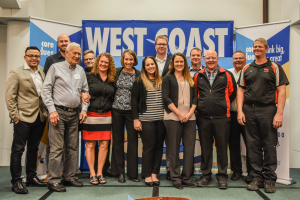 Speaking to the Training core value, Quality puts an emphasis on leadership development and it has paid off. The company has an amazing 89.6% retention rate of team members, many of whom have been with them for ten years and have been promoted to leadership positions. From training each team member to say "Welcome to Quality" to replying after a Thank you, with "my pleasure", the attention to detail starts with the interactions with customers and continues up the ladder from there. Growth opportunities for the direct leadership teams include Global Leadership Summit, Michelle Steffes Training, Tony Robbin events and West Coast Leadership opportunities. Location team members receive 90 day reviews, continued training, opportunities for growth and focus groups where they can share their ideas with corporate staff. In addition, the company holds a rally 2 times per year with awards and programing focused around being better team members both at work and in life.
Mandi Brower models leadership for her team, carefully investing her time in her own leadership development as was as in serving as a leader in the community. In addition to making sure the company is giving back to the community via several charitable programs, Mandi is active in supporting the business community by being active with the Chamber. She is currently serving her 2nd year on the West Coast Chamber Board and is helping to pilot the Family-Owned Business Affinity Group. In addition, Mandi and another  team member are taking part in the West Coast Leadership class for 2018/2019.  Said Mandi, "As long as I can remember we have always been part of the Chamber. I can tell you with working in different cities around the US, Holland/Zeeland has the BEST Chamber Ever."
It's the Never Ending Pursuit of Excellence that has made Quality a leader in innovation in their industry. Developing state of the art washing equipment gives them the ability to provide that exceptional customer experience. Laser focus on quality control of their wash equipment and technology enables them to replicate that experience at their ever expanding list of locations, which sets them apart from competitors who don't have that same control over the consistency of their customer experience. It's a trademark of Quality Car Wash. Mandi explained, "At our Rivertown location, we can process a great quality car in 1 minute and 30 secs. Time is one of the most important values of our guests. We are respectful of that. We have created a 3 lane entrance for payment processing and with the set-up of equipment we can wash a vehicle at a faster pace than the competition. Our emphasis on innovation is never ending. We continually work internally, with our business partners and with other industry innovators to bring new, innovative ideas to market. Our West Michigan locations are the test sites for these innovations."
"Our greatest success so far has been our newest Holland location on the corner of Chicago Dr. and Waverly. This location washed over 400,000 cars in its first year of business, quickly making it our most productive location, and has risen to the one of the top volume car washes in the world. A typical car wash hopes to wash 100,000 cars in the first year."
Quality Car Wash has been growing rapidly, by both building and acquiring carwash locations that operate on the same successful principles as the originals in our area. They broke into the Grand Rapids market in 2012 by purchasing an existing quick lube/carwash business. In 2013 they opened their first Tim Horton's franchise, and also purchased their Muskegon location, taking that site from a carwash that washed 36,000 cars per year to one that now washes over 200,000 cars per year. In 2014 they opened the Chicago Drive location and a Grandville location 2016. A Jenison facility is opening soon, with more to follow after that. All totaled, this growth has quadrupled their workforce, bringing it to over 250 West Michigan team members.
This year Quality was named among the West Michigan Best and Brightest, and in 2016 they were awarded the West Coast Chamber's Business Leadership Award. They have also been recognized by the Holland Public Safety Department for contributing to the community. Each year Quality teams up with the police and they pump fuel for the guests during the holidays and Quality donates the fuel. Other organizations they partner with are Helping, Wash with a Mission, car wash donations for raffle prizes for all fundraisers going on throughout the community, and Mission of the Month. "Our business was founded on the support of this community, and in leading for the next generation we will continue to support the community in many endeavors."