WalletHub announced that Holland, Michigan is once again the best small city in America to start a business. They've tracked data and rated cities on various influences and put us back on top for the fourth year in a row. While we're all big data junkies at the Chamber, it didn't take an excel spreadsheet for us to know how the strengths of our community and the businesses that make it hum play into our four-peat recognition.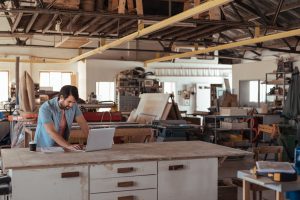 The relationship between small businesses and their global corporate counterparts in our area is a fascinating study in synergy, and repeatedly reinforces the oft-cited quote "a rising tide lifts all boats." While many of the large corporations that call Holland and Zeeland home don't actually sell products within our zip code or even our state, they take a vested interest in making sure that our community, and the people who live here are happy, healthy and prosperous. Companies like Metal Flow, Gentex, Haworth and Herman Miller invest in our community by contracting with local suppliers, by expanding operations in our area to provide jobs to existing residents and to the talent they recruit from around the globe, and by philanthropy and sponsor partnerships. They recognize that a strong business foundation builds a strong community and take an active role in participating in Chamber programs that keep them connected to the pulse of local business and give them opportunities to provide resources and expertise that add value to other businesses.
The strong presence of companies on the forefront of developing tech solutions across industries and actively participating in sharing knowledge points to benefit the emerging workforce is another key ingredient in our success: leaders with vision. Consider Chamber member companies such as DISHER and Collective Idea, who volunteer their time and expertise to assist start-up businesses via the Entrepreneurial Support Network (ESN), a partnership between the West Coast Chamber and the Lakeshore Advantage Surge program.  Our community is populated with companies investing in solutions for workforce development via apprenticeships, internships and partnerships with educational programs such as Careerline Technical Center. JR Automation pulls from students in auto body, engineering, electrical, mechatronics, and plumbing, both Holland Hospital and Resthaven provide clinical opportunities for CTC health students, and Transmatic offers opportunities for engineering and mechatronics students.
Commitment to developing a robust retail and services core, with an eye toward planning for the future of how communities live and work gives us a distinct advantage. While downtowns in smaller cities around the country struggle to remain solvent and relevant, both Holland and Zeeland have invested in vision plans that provide opportunities for new businesses to start, grow and thrive. The appeal of these downtowns draws not only businesses, but also tourists and residents with dollars to put into the local businesses that reside there. Also a factor is the Holland Board of Public Work's commitment to pouring broadband into our downtown area and throughout our community, which allows businesses who choose to be based here but who work with clients around the country and around the globe to work seamlessly via technology. Those businesses don't have to be here. They choose to be here and can only do so with the support of the broader community.
WalletHub classifies a small city as any city with a population between 25,000 and 100,000, and 1,261 American cities fit this criteria. Their ranking of small cities came from a review of 18 key metrics, including: startups per capita, average growth of business revenues, investor access, workforce educational attainment and more. Weighing these multi-dimensional metrics on a 100-point scale, west Michigan's Holland earned a total score of 60.68 out of 100 — 0.24 points higher than the runner-up, the city of St. George in Utah.
Additionally, the study ranked each city by three main categories: business environment rank, access to resources rank and business cost rank. Holland was also first in access to resources. Read full report details on WalletHub's website.
No other small Michigan cities cracked the top 50.
The West Coast Chamber's unique position as the connection between public, private and non-profit organizations gives us valuable insights that thoroughly support WalletHub's distinction. It's the heart, determination and vision of this business community that makes it strong. This article references only a handful of the 1,200 Chamber businesses that make a huge impact on the quality of life in our area. Look around and you'll find dozens more, too many for one article. We see it every day in our interactions with our members and are proud to be partners with the people working so hard for the greater good of this place we call home.