For those needing PPE, the phrase "necessity is the mother of invention" has never been truer than it is today.
Chamber member Jeff Robinson, Owner and Head Coach of Hybrid Machining utilizes advanced technology to solve the most pressing PPE needs of healthcare and human services workers.
We continue to learn of Chamber member businesses pivoting their production lines and utilizing advanced technology to manufacture Personal Protection Equipment or PPE. Even better is that our members are joining forces to amplify their efforts, and the Chamber team has been able to connect suppliers with those in need. This spreads the positive impact of their work throughout our community and around the world.
One remarkable story is the usage of 3D printers to build face shields. This project was born in our community and has registered participants across the country. Schools, business and individuals alike have all been able to jump into the project and mobilize their advanced 3D printer technology for the good of their communities.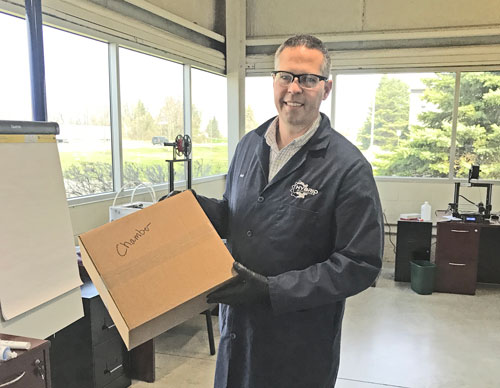 3D Printers for Face Shields
Jeff Robinson is part of the team that built the network of 3D printers. He is also producing these face shields at Hybrid Machining and getting them into the hands of businesses and organizations who need them. He has set up Hybrid Machining up as a face shield drop off and pick up point, and asked member business FastSigns to help him direct people to the pickup point.
Also leading this innovative team is Chamber member Charles Elwood of SolisMatica. Learn more and see real time updates on the number produced and the donations given to help by visiting www.3dc19.com.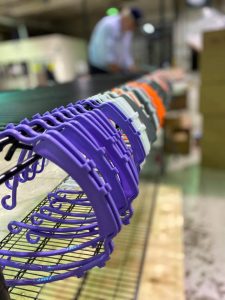 Chamber Members Connect for PPE
One such recipient of PPE from Jeff is Dr. Hannah Totten at West Ottawa Eyecare. Dr. Hannah had been unable to secure any PPE and was literally holding her breath while she cared for her patients in need of critical care for their vision.
Chamber Director of Membership, Britt Delo, discovered this need when making member outreach calls. She quickly made the connection between Dr. Hannah and Jeff, and was able to deliver face shields from Jeff to West Ottawa Eyecare within one day.
Dr. Hannah responded, "You have no idea what a game changer this is for me and my emergency patients." Thanks to Jeff for making it safer for Dr. Hannah to care for our community!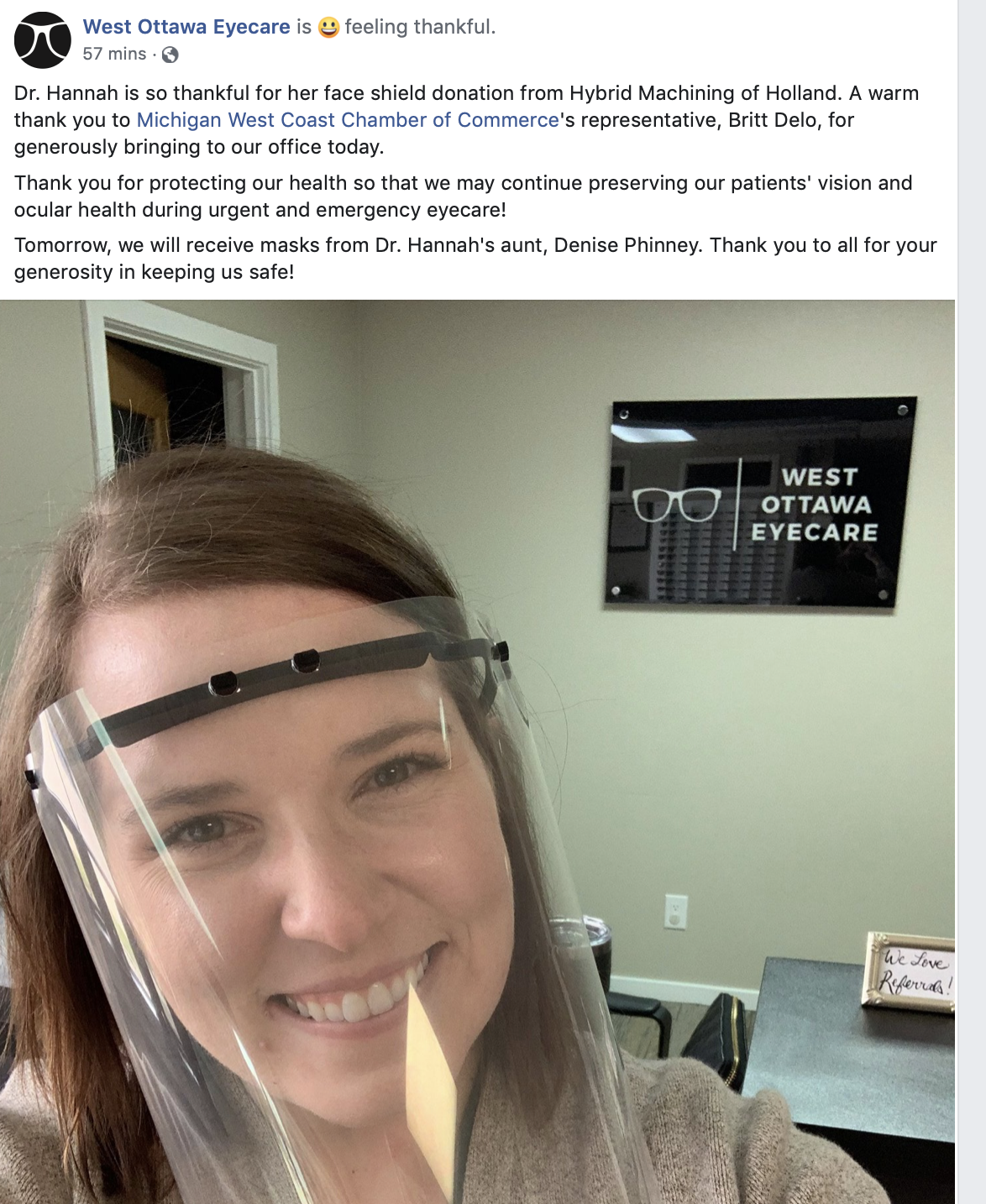 Prototype for Ventilators
Jeff is also involved with a team that went to work creating an industrial design and open prototype for an open ventilator. Along with Chamber member, Barry Hutzel of Bazza Design, they created a prototype that attracted the interest of Spectrum Health and the Open Source Ventilator (OSV) project that originated out of Ireland. Next they were asked to refine it and continue the process. Once certified and official, the design can be posted in CAD form, and anyone around the world with a hobbyist router could make the design for use in their country.
His commitment to helping others extends beyond his worklife. In an effort to keep his family safe, Jeff has even taken up residence in a camper at his production facility for the last couple of weeks! No doubt he's working around the clock. Thanks to Jeff Robinson for being a shining example of Chamber members doing remarkable things.