Any day is a great day to carry out food from a local restaurant. Help us support small businesses in our area by doing a takeout takeover. Order takeout or delivery. Give the restaurant a shout out on social media. Tip 20%.
Many restaurants announce takeout hours on social media, so it's a good place to check while you're deciding what to enjoy. When you see a Takeout Takeover post on Facebook or Instagram, be sure to give it a thumbs up as well.
We are doing our best to keep this list updated, but things are ever-changing. If a restaurant is missing or needing to be updated on this list, please click here to let us know.
Thank you for supporting our small businesses!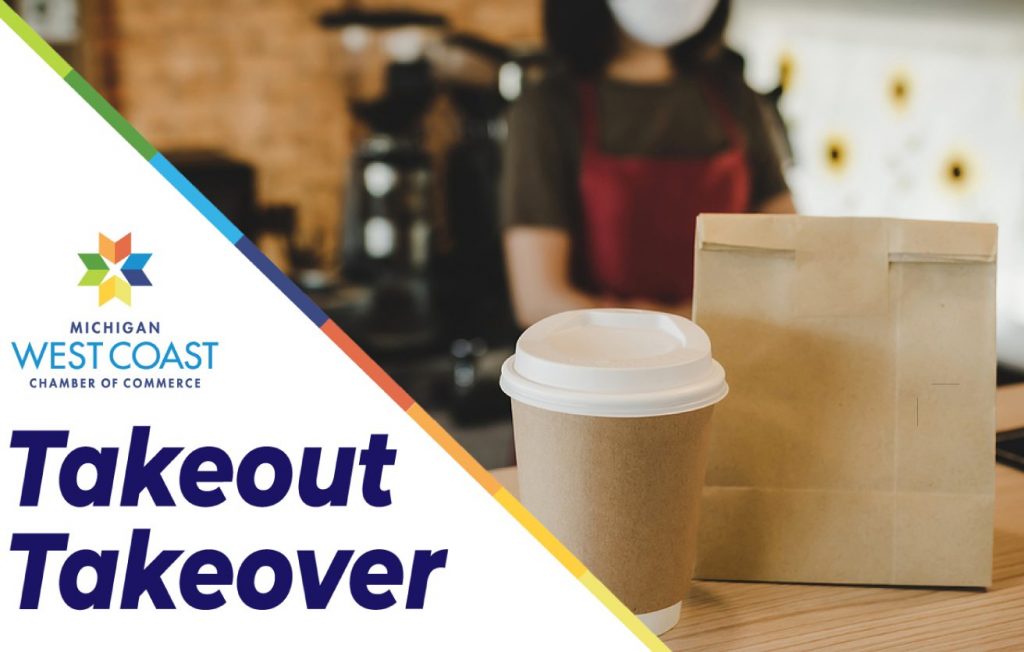 Beechwood Grill
380 Douglas Ave
Holland, MI
(616) 396-2355
Big Lake Brewing
13 W 7th St
Holland, MI
(616) 796-8888
Biggby Coffee
660 Chicago Dr Ste 50
Holland, MI
(616) 396-1113
Biggby Coffee Zeeland
501 W Main Ave
Zeeland, MI
(616) 218-8025
Boatwerks Restaurant
216 Van Raalte Avenue
Holland, MI
(616) 719-4944
Brann's Sizzling Steaks & Sports Grille
12234 James St
Holland, MI
(616) 393-0028
Brewery 4 Two 4
321 Douglas Ave
Holland, MI
(616) 377-7773
Butch's Dry Dock
44 E 8th St
Holland, MI
(616) 396-8227
Captain Sundae 
247 W 40th St
Holland, MI
(616) 393-4900
Carpe Latte
11260 Chicago Drive
Holland, MI
(616) 396-6005
Checkers
554 8th St
Holland, MI
(616) 546-9199
City Bru @ City Flats
61 E 7th St
Holland, MI
(616) 796-2100
Coopercraft Distillery 
184 120th Ave
Holland, MI
(616) 796-8274
Crane's In The City 
11 E 8th Street
Holland, MI
(616) 796-2489
Crane's Pie Pantry Restaurant & Winery
6054 124th Ave
Fennville, MI
(269) 561-2297
Crazy Horse Steakhouse & Saloon
2027 North Park Dr
Holland, MI
(616) 395-8393
Crust 54
54 E 8th St
Holland, MI
(616) 394-3002
Culver's of Holland
3035 W Shore Dr
Holland, MI
(616) 399-8475
Dutch Treat Foods
3255 Production Ct Unit B
Zeeland, MI
(616) 772-5921
Daddio's Carry Outs 
567 College Ave
Holland, MI
(616) 594-5376
Ferris Coffee & Nut 
57 E 8th St
Holland, MI
(616) 396-5465
Frank's Restaurant
134 E Main Ave
Zeeland, MI
(616) 772-7085
Gude Goodies Bakery
587 E 8th St
Holland, MI
(269) 308-9823
Hog Wild BBQ
154 W Lakewood Blvd
Holland, MI
(616) 394-9453
Holland Eats
Holland, MI
(616) 255-4932
Hops at 84 East
84 E. 8th Street
Holland, MI
(616) 396-8484
Hungry Howie's
26 N State Street
Zeeland, MI
(616) 772-7070
Jackie's Place
541 W 17th Street
Holland, MI
(616) 392-6775
James Street Inn
255 James St
Holland, MI
(616) 399-0101
Joe2Go
166 E Lakewood Blvd
Holland, MI
(616) 395-5950
Kozaks of Holland
321 E 8th St
Holland, MI
(616) 395-5954
Lemongrass Thai Sushi
977 Butternut Dr Ste 3
Holland, MI
(616) 377-7440
Lemonjello's Coffee
61 E 9th St
Holland, MI
(616) 928-0699
Mainstreet Beanery
209 E Main Ave
Zeeland, MI
(616) 748-7689
Mario's Pizzeria
850 Butternut Dr
Holland, MI
(616) 399-2570
Market Zero
62 W 8th St
Holland, MI
(616) 928-1717
Menchies Frozen Yogurt
12371 James St Ste #30
Holland, MI
(616) 402-0648
New Holland Brewing Company 
66 E 8th Street
Holland, MI
(616) 355-6422
Obstacle No. 1
92 W 8th St
Holland, MI
(616) 994-8370
On the Border 
12833 James Street
Holland, MI
(616) 266-1001
Peachwave Yogurt
6 W 8th St
Holland, MI
(616) 928-0666
Pizza Ranch 
734 E. 16th Street
Holland, MI
(616) 499-3900
Poquito
Closed SUNDAY and MONDAY
90 W 8th St
Holland, MI
(616) 298-2881
Public
Closed SUNDAY and MONDAY
131 E Main Ave
Zeeland, MI
(616) 741-9772
RedRock Grille 
4600 Macatawa Legends Blvd
Holland, MI
(616) 212-2600
Rock ''N'' Thai Cafe
3013 West Shore Dr #10
Holland, MI
(616) 796-8842
Russ' Restaurants
390 E 8th St
Holland, MI
(616) 396-6571
Salt & Pepper Savory Grill and Pub
11539 E Lakewood Blvd Ste 50
Holland, MI
(616) 355-5501
Seventy-Six
Closed SUNDAY and MONDAY
52 W. 8th Street
Holland, MI
(616) 994-8414
Spectators
6432 Blue Star Hwy
Saugatuck, MI
(269) 857-5001
Tamales Pus 
816 Lincoln Ave
Holland, MI
(616) 405-1380
Teriyaki Madness
3155 W Shore Dr Suite 30
Holland, MI
(616) 796-8077
Thai Avenue
8516 Homestead Dr. Suite 101
Zeeland, MI
(616) 748-9991
Tripelroot
146 E Main Ave
Zeeland, MI
(616) 953-0050
The 6 Eight Coffee Shop 
201 Washington Ave Ste 100
Zeeland, MI
(616) 648-0900
The City Delicatessen
52 E 8th Street
Holland, MI
(616) 396-9602
The Curragh Irish Pub & Restaurant
73 E 8th St
Holland, MI
(616) 393-6340
The Farmhouse
430 W Washington Ave
Zeeland, MI
(616) 772-9330
The Wooden Shoe Restaurant
441 US Hwy 31
Holland, MI
(616) 212-7903
Tropical Smoothie Cafe
3155 West Shore Dr Ste 10
Holland, MI
(616) 848-7606
Village Inn
934 Washington Ave
Holland, MI
(616) 392-1818
Vitale's
59 W Washington Ave
Zeeland, MI
(616) 772-5900
Waverly Stone Gastropub
20 W 8th Street
Holland, MI
(616) 392-5888
Wild Chef 
2863 W Shore Drive Ste 112
Holland, MI
(616) 399-8398
Windmill Restaurant
28 W 8th St
Holland, MI
(616) 392-2726
Wolfies Sandwiches
9479 Riley St
Zeeland, MI
(616) 772-6442