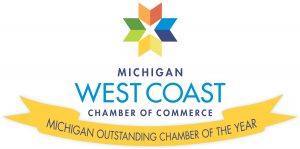 By now, you've likely been told the story of the Chamber's Core Values more than once. We can tell that we're truly living them in our daily work when we hear phrases like "deliver remarkable experiences" and "contagious energy with a positive attitude" coming from the mouths of our members when they talk about us. Reflecting back over 2018 is another way to do a pulse check on how we're living out our values. Here are some examples from a "remarkable" year.
Learn, Innovate and Share is a cornerstone for us, as we want to be your resource for educational opportunities for our members and all employees that work for them. This also takes shape in how we keep our members informed about important community issues and give you opportunities to be involved in discussions that impact your business. In early 2018, we welcomed Housing Next's new Executive Director, Ryan Kilpatrick, and introduced him in Connect magazine and also with an insightful presentation at Wake Up West Coast breakfast. This issue crosses over many sectors of our community, from public to private to non-profit, and connecting the players at Chamber events is how we help keep the needle moving on finding more ways to plan, zone, build, and populate more affordable housing in our community.
Our EOS Journey (Entrepreneurial Operating System) is another example of how we're taking what we've learned about an incredibly effective and efficient way of running a business or organization and sharing it. We've been on the journey for three years and meet regularly with other EOS member businesses to share best practices. As we spread the word around town, more and more companies are coming to us for more information and to see a real-life example of EOS in action at the Chamber. In October 2018, Jane Clark presented the EOS Journey to Chambers throughout Michigan at the MACP conference, and we've been welcoming Chambers from throughout the Midwest to our offices to learn how to implement EOS in their organizations.
Contagious Energy with a Positive Attitude comes out in a number of ways in a 2018 retrospective, and one new one is the development and awarding of Core Values Awards to both our Ambassadors and our members. In May, we recognized six Ambassadors who were selected by their Ambassador peers, as shining examples of our Core Values. We're confident that they live those values as they interact with our members and hearing it from their colleagues was a well-deserved nod. In honor of the Olympic Games, we also awarded "gold medals" (engraved with the Chamber logo!) to members whom we thought were excellent examples of our Core Values in the way they operate their businesses.
We expect ourselves to Deliver Remarkable Experiences every day, both in the small details and on a grand scale. For businesses that participate in our Accident Fund Insurance program, the day that Accident Fund brought a $70,646 check for us to distribute as rebates to our members was pretty darned remarkable. For many businesses, the workers compensation insurance discount that they receive by being a Chamber member actually pays for the membership itself. The rebate is icing on the cake.
The 50thAnniversary of our annual Golf Outing was an opportunity for celebration, and we did it up by following the day of golf with a PAR-TEE for golfers and non-golfers alike. The Golf Outing is a perfect example of how business opportunities come in different shapes and sizes, and how the Chamber offers networking opportunities from traditional breakfasts, to power coaching events, to casual lunches to days on the golf course. There's never an empty golf cart at the Chamber outing, and this year brought even more members out to join in the celebration.
Perhaps our most anticipated remarkable experience of this year was our 2018 Annual Meeting, which had the honor of being the first event held in the newly renovated Holland Civic Center Place. Having our event in a location at the heart of our community, both literally and figuratively, aligns with Chamber's position at the hub of our business community, and we were proud to put on an amazing afternoon to showcase both the Chamber and the Civic Center. Members, guests, elected officials and media representatives packed the building as we welcomed a spicy guest speaker (Richard Montañez, creator of Flamin' Hot Cheetos), celebrated businesses and encouraged all to work for the greater good of our community.
As a foundational piece for leadership development in our community, the West Coast Leadership program kicked off its 30thyear of delivering remarkable experiences to aspiring business and civic leaders. Over 800 individuals have graduated from the program over the past 30 years, multiplying the number of community stewards excited and empowered to keep our area thriving. This anniversary year is building toward a Community Impact Day on WCL Graduation Day, which will give WCL participants and all members the chance to participate in a day of service. The 2018 class of WCL got the ball rolling over the summer with a class project to help with exterior improvements to the Holland Civic Theatre.
As an aspirational organization, Think Big and Be Great is a value that continues to light a fire under us. We're never content to rest on our laurels and challenge ourselves to think about what more we can be doing for our members and our community. With the support of our Board of Directors, we routinely set reach goals for ourselves and work together to achieve them. Two of our examples stem from the robust renovation to our Chamber offices that took place in 2016-2017.
In the spring, we held a ribbon cutting for ourselves, announcing the opening of Chamber Pointe, the new pocket park developed on city property to the east of the Chamber building on 8thStreet. It's a small triangle of land that sits right at the entrance to downtown Holland, and the facelift given the little piece of property created a warmer welcome to our city. The Chamber worked with the urban planners and the city to design the park and also funded the renovations, and it will be maintained by the City of Holland. It is a great partnership project.
The Chamber renovation project required everyone to think big about how to take a 1970s building on a small footprint and make it into a bright, vibrant space where we could invite members to feel at home. On a budget. This fall we learned that both our Chamber renovation project builders, Lakewood Construction, and our architects, GMB Architecture + Engineering, received awards  from their respective a trade associations for the work they did on our building renovation. We knew all along that their work made a big difference for both the staff and the members' experiences, and it is exciting to see the years of planning and careful execution recognized on a large scale for these dedicated teams.
No doubt the cumulative effect of living our Core Values led us to my final example for today. After many months of preparing the application and then holding our breath, we were named the 2018 Outstanding Chamber of the Year for the State of Michigan by the Michigan Association of Chamber Professionals. As a first-time applicant for the award, we aimed high and scored the highest number of points ever awarded to an Outstand Chamber winner. For us, it means that all of the things we're doing day in and day out, from the smallest detail to the grandest event, are not only making a difference for our members and our community but are also what keep us in the top 1% of Chambers nationwide.
As is typical for the Chamber staff, we're well underway planning for 2019 and beyond, as we work to make each day All About You, our members. You're likely familiar with our surveys that ask for your feedback on how we're doing and seek your suggestions on how we can tailor our efforts to your needs. This core value is our true north, keeping us ever-mindful of making your membership valuable and fruitful. We can't wait to unveil more innovative programs, events, and member engagement opportunities to help your business thrive. This year was indeed remarkable, and you should expect nothing less from us in 2019. Chamber membership has its privileges. See you next year!