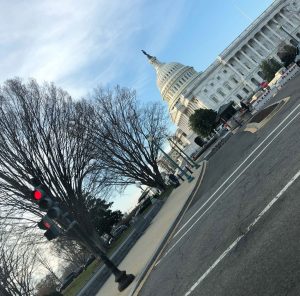 A major focus of discussions at Great Lakes Metro Chambers Coalition's DC Fly-In in March revolved around Talent.  Workforce development is a topic that crosses most of the industries in our country, although different areas of the Great Lakes Metro Chambers Coalition feel it in different ways. Common pain points include a lack of candidates with training in skilled trades, inadequate understanding of the soft skills necessary to be successful, and an underdeveloped pipeline to expose children to a variety of career paths at an earlier age.
Dr. Casey Sacks, Assistant Deputy Secretary of Education joined us to address the Department of Education's philosophy of creating multiple pathways to success for all students. This means "rethinking our educational systems" to better align the needs of the business community with the programs offered by schools from K-12 through community colleges. This "employer-led" approach to workforce development resonates with many Chambers, as it utilizes the data (both factual and anecdotal) that Chambers and Economic Development organizations collect from members on a regular basis.
Of particular note is the 2018 reauthorization of the $1.2 billion Perkins Act, which provides funding for Career Technical Education (CTE) programs and job training for students. In the reauthorized version, states are granted greater authority to set their own CTE goals, eliminating a previous negotiation process with the Secretary of Education. To set these goals, states must do a needs assessment of what skills are needed in key industries and use that data to help community colleges develop students with skills that match the needs of existing and future careers. The Perkins Act keeps businesses at the table to help validate the skills that are taught.
Discussion of the Higher Education Act shed light on the issues with the Federal Student Aid program, FAFSA. For populations in certain demographics, the complexity of FAFSA applications creates a barrier to receiving aid and can widen the socioeconomic gap by restricting opportunities for education for students in those populations. Another issue noted in the area of higher education is the relationship between the funding responsibilities of state governments versus the federal government where funding is concerned. The federal government is looking for more accountability from the states.
Workforce development issues are also linked to the areas of Transit and Immigration. When assessing the talent pool in a given area, the access to reliable transportation to commute to work is a pain point. From a historical perspective, our transit systems were originally designed to transport workers into the downtown areas to work. Over the decades, the expansion of commerce and manufacturing to more suburban and rural areas has not been matched with an expansion in modes of transportation, nor in an increase in routes to deliver workers to the location of their jobs. This places a burden on both employer and available worker and places a roadblock in connecting them for employment.
From an Immigration perspective, the topic of H-1B Visas was a prominent concern for employers and communities with a large immigrant workforce.  Employers with a highly educated workforce recruited from around the globe report losing employees who aren't able to attain permanent citizenship. In a conversation with Senator Bob Casey (PA), he commented that the pathway to citizenship leaves employers in a position of not being able to provide predictability or stability for their employees. When going through the process, which takes several years, an employee cannot change jobs, even to be promoted within the same company. Changing of status in any way requires the applicant to start the citizenship process back at the beginning, which leaves many stuck in positions for which they are far overqualified, and without opportunity for advancement or upward mobility.
The lengthy citizenship application process leaves employers and workers in a perpetual state of insecurity of work status. When permanent residency is denied to an employee who has been with a company for a number of years on an H-1B Visa, the training and investment in that employee is lost. Consider the innovative research brains that vacate our research institutions when they are sent back to their countries of origin. That's a loss for our labs and a gain for someone else's.
The United States currently makes 140,000 green cards available every year to employment-based immigrants, including many who first come here on temporary H-visa. The law, however, provides that not more than seven per cent of these green cards can go to nationals of any one country even though some countries are more populous than others. Because of this seven per cent limit, for example, a Chinese or Indian post-graduate may have to wait half a decade or more for a green card, much longer than a student from a less-populated country. Recent legislation proposed in both the House and Senate (the "Fairness for High-Skilled Immigrants Act")could cut the per-country green card limit, and benefit employers and employees alike.
In certain communities, and in certain industries, the size of the immigrant work force is at such high levels that the economy of the entire community would be destabilized should all immigrants be returned to their countries of origin. For example, consider the impact on our country's agriculture ecosystem should the majority of the workforce be deported. There is also concern of the loss to the GDP to the countries of origin as workers here are no longer sending money to their families, as well the inability of those countries of origin to reabsorb so many returning citizens, thus also destabilizing those countries as well.
From a travel and tourism perspective, GLMCC members reported conferences that would have been held in their cities being moved out of the country since prominent speakers from countries outside of the U.S were denied Visas to visit and speak. That's money that could be spent in their communities.
Immigration is clearly a topic with both micro and macro implications. Every speaker we met agreed that the Immigration system is broken, and the issues it raises from a business and economic perspective are only one piece of the puzzle.