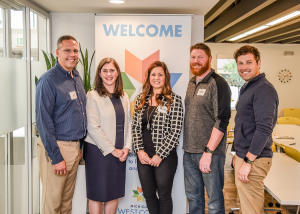 It's no secret that employers in our area, and throughout the country for that matter, are finding it increasingly difficult to find enough candidates with the appropriate skills needed to fill open positions. One solution lies in exposing students to the vast array of careers available and helping them find the pathway to success in the career that best fits their interests.
This week marked the launch of the one-year Industry InvestED series, designed to educate area manufacturers on the ways to be involved in helping educators develop curriculums that open students up to the wide variety of careers available. The kick-off event featured presentations by Careerline Tech Center CTE Work-Based Learning Supervisor, Shayna Carlson, and Lakeshore Advantage Director of Talent Initiatives, Mandy Cooper.  Cooper gave an overview of the West Michigan career opportunity landscape, and Carlson outlined the initiatives currently in play at the State, West Michigan, and Lakeshore levels, and shared ways that manufacturers can plug in and participate. Members of the Chamber's Manufacturing Affinity Group were invited and representatives from twenty area manufacturers participated in the conversation. They will hear information about different education sectors at each Industry InvestED event.
A significant piece of the talent development puzzle lies in the tremendous impact that business partnerships make toward helping develop relevant programs that prepare students for the jobs that are waiting for them. It's a win-win when a student discovers a career and the program exists to prepare them with the exact skills required for employment. It creates opportunities for both student and employer, and employers are eagerly coming to the table to help schools design the programs that will prepare their future workers.
Local manufacturer Jeff Robinson has just launched a new business, Hybrid Machining, and is passionate about finding ways for small to medium manufacturers to become involved in inspiring kids to explore careers in STEM. It's this interest in partnering with education that sparked him to pull together peers to meet with educators following the Chamber's Wake Up West Coast Breakfast in June. "I received the chambers regular news e-mail and noticed that we were going to have the presidents of our local community colleges as well as some members of the ISD in the SAME ROOM. I thought to myself, 'It is unlikely we will ever get all these people in the same room again.'  So just 48 hours before the event, I started calling and emailing several of my business friends to see if we could get enough people together to reserve a table up front.  This group of friends are also passionate about educating and being involved with our youth."
The two sectors met at length following the event, and representatives were determined that the conversation continue so that real progress can be made. Said Robinson, "As a result of that meeting, I met with Dr. Bill Pink to express our group's interest in building a better connection with GRCC in Ottawa County.  I met with the Chamber and Lakeshore Advantage to define the objectives of this new group, and we invited Ross Haan (Impact Fab) and Ed Denave (Cento Anni) to join the steering committee to get this group off the ground."
The strategic partnerships formed to support the one-year Industry InvestED program point to the power of the Chamber to bring these key players together to develop plans that can be put into action. Robinson said, "The more companies that are involved, the more we can spread out the workload so that a small handful of businesses don't get burnt out carrying the load.  This group is bringing additional awareness to the connection/communication gap that is present between small manufactures and the educational sector."
It takes an entire community to move the needle on large issues and convening these meetings allows for collaboration to stimulate the talent recruitment and educational development efforts that local businesses need to allow for continued growth. Being a top community begins with providing top educational resources and career paths for the people who live here, and this community is showing once again how collaboration is the secret sauce to making this a great place to live.