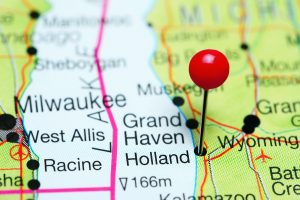 October has been a busy month for Advocacy in Action. Between our Public Policy Committee Meeting and our Governmental Affairs Breakfast, we discussed topics from our state's water systems, to mass transportation options to those darn roads. Both of those events also included reports from our elected officials, with a focus on the state of budget negotiations. Here's a high-level look.
The Center for Michigan makes stops around the state to collect feedback and data from stakeholder groups and presented at our Public Policy Meeting on October 11. The Center's objective is to make Michigan a better place by encouraging greater understanding and involvement in policy issues among the state's citizens and making sure their voices are regularly heard. The Center publishes Bridge Magazine, Michigan Press Association's four-time "Newspaper of the Year."
This conversation centered on the state of Michigan's water systems, using the lens of balancing economic concerns with environmental issues. Members at the meeting were asked to vote on several topics and then invited to comment and discuss. Topics included water quality regulation, wetlands management, Great Lakes Protection and restoration programs, and the concept of our Blue Economy.
What Is the Blue Economy?
Blue economy refers to all economic activities related to oceans, seas and coasts. While Michigan's water resources provide economic opportunity across many industries, there are five "buckets" of water-based economic activity driving growth in Michigan:
Legacy uses: shipping, ports and commercial fishing
Big water users: agriculture, manufacturing, energy and beverages
Emerging water tech: water technology products and services
Water talent: water-focused education, research and innovation
Water placemaking: water-based development, tourism, recreation and lifestyle
Read the Fall 2019 Citizen's Guide to Michigan's Water Systems by clicking HERE.
Michigan Department of Transportation (MDOT) Update:
Chamber member Helen Zeerip, President of Teddy's Transport, is the MDOT Commissioner for Allegan, appointed by Governor Synder in 2017. She began the road conversation, reporting that 78% of the road system is in "fair" condition, down from 90% in 2011, explaining that this is the direct result of years and years of divestment. She then introduced Dennis Kent, the MDOT Grand Region Planner, who gave an overview of the state of the roads in our area and the projects planned to improve them. He explained that the roads in West Michigan are slightly better than the statewide average, but that our rating of "fair" is just barely above the rating of "poor". Major projects anticipated in the next few years include reconstruction of the 131 corri­dor in Grand Rapids, which boasts the oldest pavement in the greater West Michigan area.
West Michigan Express (WMX):
The West Michigan Express is the proposed regional transportation service intended to connect communities from Grand Rapids to Holland, including Grandville, Hudsonville, Zeeland in between. Patrick Waterman joined us to give an overview of how businesses can support this multi-sector collaborative effort. Calling it a "Journey to Work" project, the addition of a regional transit system will provide reliable transportation for employees to travel further afield to work. It would "expand the bubble" for how far employers can reach to tap into talent.
The project has completed the public buy-in phase and secured sixteen resolutions of support from cities, economic development agencies and chambers, including the West Coast Chamber, who has also pledged financial support. Architects of the program are working with the Rapid to help build system routes and will be surveying the top 20 area employers to determine shift times and peak travel times to serve.
The goal is to have the project "on the road" in the fall of 2020. To make this happen, the task forces stresses the need for private sector support to express interest to elected officials, and to pledge support to create innovative end game solutions to get employees from bus stations to places of work. Special state funding will also be necessary to get the pilot project up and running.
Read the Holland Sentinel's coverage of the WMX report HERE.
Read the WMX Fact Sheet HERE.
As for the state's budget, one of our legislators noted that "Governing is an art of compromise." Unfortunately, we heard that there's still much work to be done to turn this budget into a Picasso.