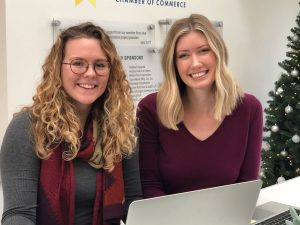 As the year draws to a close, we bid farewell to Emily Hostetler. You may know her as the gifted person behind the camera, who takes phenomenal photos and always has a smile. She leaves us to return to school to become a teacher, which is a blessing to children throughout the area. She jumped into her teacher role early by helping us to welcome and train our new Marketing Coordinator, Grace Freeman. Emily and Grace have been able to work together for the past week, which has been making for a thorough training and smooth transition for Grace.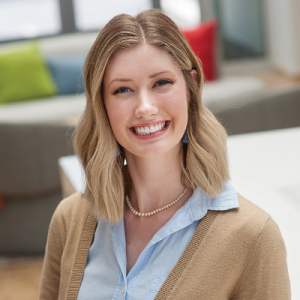 Emily has been Delivering Remarkable Experiences for our team and our members since September of 2018. She has been instrumental in creating the beautifully branded photos and posts that you see in our Facebook and Instagram social media feeds, in our emails and on our website. She's created videos that tell our members' stories and salute our sponsors, and takes great care of our members when she greets them to take their photos. She truly embodies the "It's All About You" core value. Most of all, she is a delightful person to work with, and has done an amazing job growing the capacity of the Marketing team. Our whole staff will remember her stories of Sylvester the cat and his stroller rides, her love of heartfelt Christmas movies, and her creative spirit. We will miss Emily's sweet personality around the Chamber and wish her the best of luck in her new career. Maybe your children will be lucky enough to be in her classroom one day!
Emily reflected on her time with us at the Chamber. "Having spent just over a year at the Chamber, I feel that I have learned so much, met many amazing people, and grown in new ways. The Chamber has been influential in my professional development and I will always be grateful for my time working here. I have even learned a lot more about myself and what I am capable of. I believe that I have been prepared, in ways I didn't even expect, for the next "chapter" in my life. Starting in January 2020, I will be going back to school and attending Grand Valley State University to pursue a career in Education through their Graduate Teacher Certification Program. Through this big change in my life, the Chamber has been very supportive and encouraging and I am thankful to have worked at a place that supports its employees. I am really looking forward to my next chapter but am also looking back on the last with much gratitude."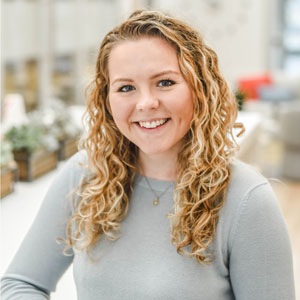 Grace Freeman comes to us from Uncommon Grounds in Saugatuck where she was the Marketing Lead. She has had a busy first week at the Chamber. Her first day included a Ribbon Cutting, which seems a fitting introduction to Chamber life. She has already experienced an amazing Women Inspiring Women event and an energizing Wake Up West Coast Breakfast, and has met several new members to take their photos. Before the end of her second week, she will have attended Breakfast with our Congressman, Bill Huizenga and enjoyed bonding time at the staff holiday adventure. No doubt you will meet her soon if you haven't run into her already. Be sure to flash her a smile for the camera!
Here's a message from Grace: "Hello! Nice to meet you! I am thrilled to be the new Marketing Coordinator for the Chamber! You'll be sure to see me at Chamber events flashing away behind the camera lens. I recently graduated from Michigan State University and am thrilled to now be in the Holland area and close to beautiful Lake Michigan. During my first week at the Chamber I was blown away by a community where everyone is engaged and just as excited as I am to be here! I am so grateful to join this amazing and supportive team! In this role I am looking forward to delivering awesome results highlighting the fabulous members of the West Coast Michigan Chamber."
Welcome Grace!