Michigan West Coast Chamber of Commerce leader Jane Clark, part of latest Elite Certified Chamber Executive class.

July 23, 2020 - Jane Clark, Michigan West Coast Chamber of Commerce President and CEO, has been designated as a Certified Chamber Executive (CCE) by ACCE, the Association of Chamber of Commerce Executives.
ACCE is an association of more than 9,000 professionals from 1,500 chambers of commerce, including 93 of the top 100 U.S. metro areas.
The CCE designation signifies the highest quality of performance in chamber management. The program assesses and tests the applicant's knowledge of core chamber management areas, including management, planning, development, membership, communication and operations.
"We are thrilled to have this year's class join a long tradition of professional excellence," said Matt McCormick, CCE, IOM, president of the Columbia Chamber of Commerce (MO) and CCE commission chairman. "Chamber professionals who are designated CCEs have earned this recognition through hard work, countless hours of dedication to the chamber industry and leadership of their chamber to achieve the organization's goals."
Clark is one of six chamber professionals to earn the Certified Chamber Executive designation in 2020. The six leaders represent chambers of commerce in six states, including Iowa, Kentucky, Michigan, Ohio, Oklahoma and Texas.
The first CCE designation was conferred more than 40 years ago. CCE is recognized as the highest, and most elite, professional designation in the chamber of commerce profession. It's the only globally recognized certification program exclusive to the chamber of commerce industry.
Jane Clark is President and CEO of the Michigan West Coast Chamber of Commerce. This organization was created through the merger of the Zeeland Chamber of Commerce and the Holland Area Chamber of Commerce in September 2012.  She was previously President of the Holland Area Chamber of Commerce since June 2004.
Jane's West Michigan Influence
In January of 2020, Jane was recognized as one the 50 Most Influential Women in West Michigan by the Grand Rapids Business Journal. She was recognized for her instrumental work as a catalyst for business growth and development, as a convener of leaders and influencers, and as a champion for our thriving community.  Because of her leadership, the Michigan West Coast Chamber of Commerce is nationally recognized as an industry leader that is impacting our community for the greater good.
Under Jane's leadership, the organization has received numerous accolades. Since the Holland and Zeeland Chamber merger in 2012, the Chamber has undergone a major renovation of the Holland office space. This project, completed in 2017, was intended to provide state of the art facilities for Chamber members and staff. The building was awarded The National Excellence in Construction® Eagle Award from Associated Builders and Contractors. It resulted in a national award for contractor Lakewood Construction for the best remodeling project under $5 million in the United States (2019).
In 2018, the West Coast Chamber was named Outstanding Chamber of the Year for the State of Michigan by the Michigan Association of Chamber Professionals (MACP). The team was awarded the highest score ever given to a winning recipient. In 2014 and then again in 2019, the organization was awarded a Five-Star Accreditation from the U.S. Chamber of Commerce. This prestigious distinction is awarded to less than 1% of chambers nationwide, and must be renewed every five years. More specifically, of the approximately 7,000 chambers nationwide, only 127 are Five-Star Accredited.
In our weekly staff meetings, we have a segment that we call "Where's Waldo?"
Jane Clark sits on many community-wide boards and committees, which makes her a wealth of knowledge on what's happening in our community.
Here's where you might find Jane in a given week:
Current:
SARB Board in Downtown Zeeland
Lakeshore Advantage Board
Housing Next Board
Member of Model Communities Initiative
Member of the Riverview Group
Former:
Board Member and Chair of the Board of Holland Hospital
Board Member of Black River Charter School
Board Member of Holland Historical Trust
Board Member of Holland Principal Shopping District
During the 2020 COVID-19 shutdown, Jane activated the resources of the Michigan West Coast Chamber of Commerce Foundation. The Foundation partnered with the Now for the Next fund of the Holland and Zeeland Community Foundation to establish a Downtown Relief Fund. This program awarded $150,000 in relief grants to downtown Holland and Zeeland businesses adversely affected by the pandemic.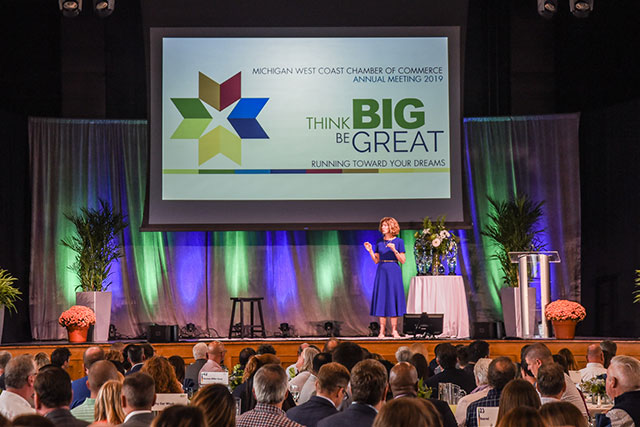 Jane's National Influence
Jane currently serves as Vice Chair of the ACCE Foundation Board of Directors.  She is a former member of the ACCE Board of Directors and the Board of Directors of MACP and has been recognized by MACP as the Chamber Executive of the Year. She is also a member of the Chamber of Commerce Committee of 100, a program of the US Chamber.
In 2019, Jane was recognized with the MACP Chamber Professional Award, in part for her work as an EOS (Entrepreneurial Operating System) expert. A trailblazer in the chamber industry, she is a top presenter for MACP and ACCE, and consults with chambers across the country, helping them run their organizations more efficiently and effectively. Her EOS expertise also includes working with local West Coast Chamber members businesses who want to learn more about EOS. Furthermore, Jane facilitates a think tank with businesses who already work under the EOS model.
Jane is a 1985 graduate of Indiana University. She is also a graduate of the six-year Institute for Organizational Management, a program of the U.S. Chamber of Commerce.
Association of Chamber of Commerce Executives Certifications
The Association of Chamber of Commerce Executives, founded in 1914, serves more than 9,000 professionals who lead chambers of commerce. The mission of the Alexandria, Va.-based organization is to support and develop chamber professionals to lead businesses and their communities. Learn more about ACCE by visiting www.ACCE.org.
Learn more about ACCE's CCE program by visiting www.ACCE.org/CCE.