Let's talk about local Sustainability Superstars.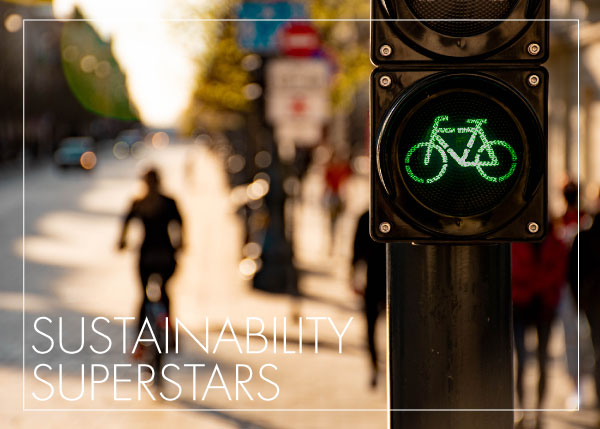 Earth Day seems like the perfect time to elevate the conversation about sustainability practices in our community.
We asked for your nominations for businesses and organizations in our area that are working on initiatives that promote sustainability, resiliency and livability in our community. You responded!
In honor of Earth Day on April 22, we're sharing your submissions for local companies that are working to make a positive impact in our world.
How Do We Define Sustainability?
Great question. The City of Holland has developed a Sustainability Framework to  develop and incorporate objectives focused on supporting sustainable practices in all aspects of City operations and community actions. The Chamber is following their lead.
The City's sustainability framework defines the following areas in assessing how businesses and organizations are furthering sustainability in our area:

Businesses Working for the Good of Our Community
Below are the businesses and organizations highlighted as Sustainability Superstars by West Coast Chamber members. Large or small, all efforts make a difference, and we'd like to acknowledge the work being done.
Have a business or organizatiion to recommend? CLICK HERE
At the Community Action House resale store, they revive donated toys, bikes, dishes, furniture, clothes and more, and thereby give them new life in new homes. This saves these items from landfills, and the profits go back into the community. The clothes that can't be saved are then recycled, as well as all metal and cardboard.
CAH also picks up generous donations of food that would otherwise be thrown away. Trucks go out at least five days a week and pick up thousands of pounds of food each week. The food is taken to their pantry where it is sorted and then distributed to people in need. They also use donated food at their community kitchen to make meals for those who might otherwise go hungry.
Community Action House is an amazing organization that has found a way to reduce waste, keep items out of landfills and in doing so supports the local community in so many ways. My husband and I are proud to be a small part of this wonderful team!
Submitted by CAH Volunteer, Sharon Visco.
Every day, Creative Dining teams prepare and serve delicious cuisine at college and universities, adult living communities and corporate offices. We take responsible sourcing and sustainable operations seriously, as do our clients in the 20 West Michigan locations we serve.
Creative's menu development is strategically aligned with Menus of Change, a national program developed by the Culinary Institute of America and Harvard's T.H. Chan School of Public Health. The program educates and advocates for menus that are balanced in wellness, sustainability and flavor, primarily through plant-forward eating and supported by local sourcing.
Through our innovative direct-to-farm purchasing program Farmstead, we partner with nine West Michigan farms including Visser Farms in Zeeland and Crisp Country Acres in Holland as well as Valley Hub, a non-profit food hub at the Food Innovation Center at Kalamazoo Valley Community College. Creative chefs regularly support farmers markets and student and community gardens and apiaries.
Our programming engages and supports our client's sustainable initiatives first, then regularly brings value-added green hospitality practices to the table, including: strategies to reduce energy and water usage in kitchen environments, comprehensive composting and recycling, food waste source reduction and food rescue to West Michigan agencies feeding the food insecure, including Mel Trotter Industries, God's Kitchen and Community Action House.
Creative is a long-time, engaged corporate partner in the West Michigan Sustainable Business Forum. Corporate Director of Sustainability, Janine Oberstadt, serves on the West Michigan Food Waste Council, the Michigan Campus Sustainability Collective and is a 7 year Advisory Board member of the Michigan Farms to Institutions Network, a program of Michigan State University's Center for Regional Food Systems. Janine is a frequent speaker at regional Michigan sustainability conferences.
Submitted by Jim Eickhoff.
Landscape Design Services
At Landscpe Design Services, organic debris, soil and mulch that is removed from projects during landscape construction and maintenance is composted and blended to create a thousands of cubic yards of soil for use in future projects.
Submitted by Matt Bakker.
Mosaic Counseling is committed to never turning anyone away for mental health services, for those who live, work, worship or go to school in Ottawa County.
The business as a superstar, and Sarah Lewakowski is a champion of mental health services. 17 years ago, Sarah moved on from private practice to be the Executive Director of Mosaic Counseling, where she works to make mental health counseling affordable for ALL. She always says, "Mental health should not be a luxury!" She is a warrior for accessible mental health care, and impossible things happen at Mosaic with improbable probability. Sarah finds a way, no matter the situation.
Submitted by Chris Clegg.
Ottawa County Environmental Health
Ottawa County Environmental Health hosts the Environmental Sustainability Program. The goal of this program is to reduce useable material from our landfills and keep them in use or properly dispose of the material. Our sites collect household hazardous waste, scrap metal, household recycling, used
oil/antifreeze, electronic waste, and new this year compost and scrap tire.
Submitted by Kim Wolters.
Revolin Sports designs high-performance, eco-friendly pickleball paddles made with plant base fibers from renewable resources. They help pickleball players improve their play without sacrificing the planet by using their proprietary environmentally friendly technology.
Submitted by Amanda Chocko, Lakeshore Advantage.
SolisMatica is a data analysis startup that began a year ago, and one of its main niches and passions is to use Data to reduce energy waste and create a more sustainable future for our children. The business hosts a Youtube/Linked in Live Stream event biweekly and covers sustainability topics like Solar Energy, Fuel Cells, and Wind Energy and often showcases West Michigan companies that are in this space.
Submitted by Charles Elwood.