The SBDC is a Great Resource to Answer Your Business Questions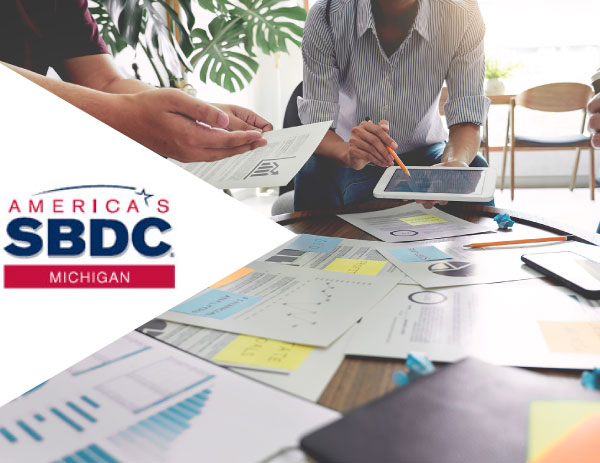 This has been a year of massive disruption for any business plan. Owners and employers have a wide range of business consulting needs to help them pivot. One of our favorite resources for hands-on consulting resources for small businesses and entrepreneurs is the Small Business Development Center of Michigan (SBDC). Wherever your are on your business journey, the SBDC is there to help. Today's "Top Three Business Questions" come from our friends at the SBDC
The SBDC offers no-cost and low-cost training sessions for the opportunity to learn more about running and growing your business. They also offer personalized, one-on-one business consulting to help small business owners with growth strategies and planning.
Location:
The SBDC's 11 regional centers and state headquarters serve all of Michigan. The State Lead Center and West Michigan Center is located at the Seidman College of Business at Grand Valley State University, and serves Allegan, Barry, Ionia, Kent, Lake, Mason, Mecosta, Montcalm, Muskegon, Newaygo, Oceana, Osceola, and Ottawa counties.
Top Three Business Questions Right Now
Liz Hoffswell, Certified Business Consultant with the Small Business Development Center, shared the most common questions they're getting from businesses right now, and what resources the SBDC has to help.
#1. Marketing
Businesses that had been humming along nicely without having a marketing strategy, are finding the need to ramp up marketing efforts quickly.  The downturn has made promoting their businesses a need-to-have rather than a nice-to-have.
The SBDC helps with:
Registering business with Google.
Set-up/improving business Facebook and LinkedIn profiles.
Updating websites.
A new resource to help with marketing is LendGR.

LendGR utilizes Grand Valley State University students to offer technical assistance to the entrepreneurs to help them develop or strengthen, marketing plans, social media outreach, conduct market research and other areas to help improve the support landscape for microenterprises so that they can grow.
#2. E-Commerce
"We are getting a lot of requests for assistance on adding an e-commerce component to their website.  Our clients are now seeing how valuable it is have multiple sales channels," said Liz.
The SBDC helps with:
Technology Commercialization - Setting up online stores using Shopify or WooCommerce.
#3. Entrepreneurs
A lot clients are turning their passion and/or side-hustle into a full-time business. Broadly speaking, a side-hustle is anything you do to earn money outside of your full-time job. It's often providing a service or creating a product. Some examples of this are food delivery, dog walking, personal chef, house cleaning, virtual assistant, airbnb hosting, bookkeeping, blogging, personal training, child-care services and computer tutoring. A quick online search will turn up dozens of ideas.
Liz said, "I have had four Etsy sellers this week!  The key with any new businesses is having a well thought-out plan, even a simple one, that includes projected finances."
The SBDC helps entrepreneurs with:
Business Plan Development
Market Research
Financial Management

Business Plan Development
Market Research
Raising Capital
Business Workshops
Technology Commercialization
Financial Management
Export Strategy
Strategic Planning
Human Resources & Educational Development