Chamber Insider Business Blog
Welcome to the view from inside the West Coast Chamber. Keeping you on the leading edge of business innovations, trends, and best practices. Keeping you in the know about what's happening in the West Michigan business community.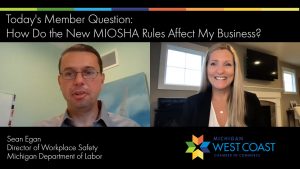 Today's Member Question comes on the heels of the new MIOSHA COVID Workplace guidelines that went into effect last week. These policies impact industries across the spectrum and I'm joined by Sean Egan, Deputy Director with the Michigan Department of Labor, to help give us clarity.
Read More